Pha That Luang, Vientiane.
Pha That Luang is an impressive stupa on the east side of Vientiane.
Its gilded structure reflects marvellously in the midday sunlight.
During my last visit, many monks were busy repairing the roofs of the surrounding walkways. New large temple structures were being built around the stupa.



Pak Ou Caves
Pak Ou Cave is located about 25 km from Luang Prabang. It can be reached by boat from Luang Prabang. Alternatively you can go by a soonthaew, that will bring you to the opposite bank of the river, where boats will be waiting to take you to the other site.
There are two levels. One cave entrance is clearly visible from the river. The higher level can be reached after climbing some stairs. Bring a flashlight with you, if possible.
Both caves have lots of small and bigger Buddha images, mostly donated by local people.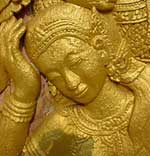 Wat Xieng Thong
Wat Xieng Thong is the temple highlight of Luang Prabang. It was built by King Saisetthathirat in 1560 and is located on a peninsula, in between the Mekong and Khan rivers.
Temple structures are decorated in various ways. Some with gilded stucco's and doorways. The main sim has a marvellous 'tree of life' mosaic pattern on an outer wall.
A smaller temple is decorated with mosaics, depicting mostly daily life activities.


Luang Prabang : City Life.
Luang Prabang is altogether a rather small, but very charming town. While you walk around, some people may want to entice you to visit their small shop. Most however, will just go about their daily business.
The main street houses a few bakeries and restaurants, and is the place to wind down, especially in the evening with a cool, not expensive beer.
As you will see, in the late afternoon, young people cool down by plunging or floating on rubber tires, in the Khan river.(at least during the dry season, possibly the currents and water level are a little bit less enticing during the rainy season)



Vientiane : City Life
People seem to move about a lot in Vientiane. Most use motorcycles and bicycles. Up Pratuxai monument, you get a nice view of the city and the activity around.
For a quiet afternoon, you can wander through the many temples, scattered around town. You will quite a few students, making drawings of the buildings.
In the evening, the area around the central fountain, is a good place to wind down. Laos people like to stroll around the fountain in the evening. But soon after 10 P.M., most places will close, time to head back home or your hotel.